2007 Mackenzie Trip
All pictures on this page are part of this archive. Full resolution copies are available there, as well as many other pictures not included here. If you have any questions, please feel free to send me a message at:
.
Planning
So. Let's canoe down the Mackenzie, the second-longest river in North America this summer! 1500 kilometers, 4-5 weeks, why not?
The Mackenzie is a great wilderness river to paddle because not only is there road access to both ends (and none for most of the center), there is barge service running along it. So you can drive to Hay River near the head of the river, stick your vehicle on a barge, and pick it up at Inuvik on the far end. Not the cheapest process in the world, but very convenient.
I already had a battered-but-servicable 17 foot Coleman canoe. It weighed a ton, but it was spacious, indestructable and free. I actually prefer kayaks, but it's hard to beat a 17 foot canoe for cargo capacity. Plus, this is the Mackenzie. Canoes are canon.
The barge service is provided by Northern Transportation Company Limited (NTCL). (If you ask nicely, you can get a poster print of that beautiful map on their front page.) I tried calling them and setting up a reservation. They faxed me a bunch of forms to set up a business account, which really wasn't very relevant. When I got up there, we just paid with plastic, and they happily took the truck. As far as I could tell, the account I had set up before was never used. If I was doing it again, I'd just show up.
Hay River is on the Great Slave Lake, about 4 days' paddle from the mouth of the river. We thought we might end up pressed for time, so we paid Canoe North to drive us and our gear to Dory Point, where the highway meets the river, just a couple of kilometers from the official mouth. Canoe North also supplied our maps a few months earlier, and provided the bear spray and other last-minute items. They also followed us to the NTCL loading dock, and generally helped us with all the final details like checking in with the RCMP. Thanks, Doug!
The months before hand were spent collecting gear, studying maps and reading everything I could find about the route. On the off chance this helps someone, here is a short list of items we were either very glad to have or very annoyed we didn't have:
Inflatable sleeping pads -- Absolutely essential. You'll be spending a lot of nights on beaches that could charitably be described as 'cobbled'. Spend the extra money for a nice Thermarest or similar. They're quick to inflate and very reliable.
Folding table and chairs -- The table made meal prep a lot nicer, and it was a wonderful luxury to have a good, comfortable place to sit in the evenings. We weren't hurting for cargo space, so why not?
Folding shovel -- Get a good one. The ground is often very hard and rocky. Ours was kind of crappy and the hinge started to fail.
Thick tent stakes and a hammer/mallet -- Again, rocky ground. We didn't always have to use these, but they were great to have when needed.
DEET bug spray -- Yeah, it's kind of nasty stuff, but you'll need it. We took 4 little bottles from REI (Jungle Juice), used it religiously every day, and didn't even go through 1 full bottle. Very potent stuff. Be careful with it around plastic, though, because it is a solvent for some.
Bug netting suit -- The suit bottoms didn't get used much, but the uppers were nice to have. The one time we ventured into the interior, they were essential.
Satellite phone -- Originally I just wanted this for emergencies. Given that the technology exists and is quite affordable, it would just be stupid not to have it available. We ended up using it every other day to keep in contact with loved ones. The sense of isolation was pretty amazing.
Tent repair patches -- This was a really stupid oversight on my part. I put together a very comprehensive repair kit, but I forgot to get any adhesive patches for mending tears in the tent. While the small holes left after the tent went rolling down the beach weren't catastrophic, they could have been. Learn from my mistake.
Hand lotion -- Our hands were getting badly cracked and chapped towards the end of the trip. A little bottle of lotion would have been wonderful.
Bailer -- This is, of course, standard equipment for any canoe trip. And ours disappeared somewhere between our truck and the river. We made do with some scavenged plastic bottles, but the original would have been better. On two occasions the rain was heavy enough that we were bailing regularly as we paddled.
Eye mask -- It doesn't really get dark at night. If you can't sleep well in the light, take an eye mask. I meant to and forgot. I eventually got used to it, but I was tying my bandana around my head for the first week. Which neither worked very well nor was a particularly good idea, since it was soaked in permethrin.
General notes
The entire trip took us 2 days to drive up, 26 days on the river, and 5 days to drive back. The first 5 days on the river were very slow, but once the river turns and narrows near Browning's Landing the current picks up a lot. We were doing 60-70 kilometer days pretty easily. This kept up until the Ramparts. After that the current started to die back down, and then disappeared completely after Tsiigehtchic in the delta. I have no idea how representative this experience was, however.
We did see some change in the river height. There were heavy rains around Fort Simpson just after we left, and the river rose 6 inches or so overnight for several nights in a row. (It might have been dropping back during the day, we had no way of measuring.) Keep this in mind when tying up. A much greater threat is barge wake, however. They can toss up some very powerful waves, and they can pass at any time of day.
Speaking of barges, look out for them. You can usually hear them coming, but not always, particularly when they're coming downstream behind your back. If at all possible, get very close to shore to let them by. It's a big river, but so are they. They swing very wide back and forth across the river to line up for curves, and they move along at a surprising clip. You'll also likely be passed by the Norweta a couple times, and Canadian Coast Guard 'Special River Navaid Tenders'. The later always tooted their horn and very politely slowed as they passed to reduce their wake.
A lot of the reference material and maps you're likely to find will refer to Arctic Red River and Fort Norman. These are now called Tsiigehtchic and Tulita.
The standard maps you're likely to get are generally not very current. In particularly, we found the placement of navigation markers completely unreliable. You also can't rely on the maps to be correct when it comes to minor channels or islands. The river is a very dynamic place. There is a chain of artificial islands at Norman Wells which are new, too. The community of Jean Marie River was only shown as a single unlabeled cabin on our map. In short, don't rely on them too closely. The map is not the territory.
Campsites. For the most part, camp where ever you can. You can't really tell from the maps where you'll find good campsites, but you can at least guess which areas will be too swampy. Try to plan ahead -- having to paddle all night because it's all swamp really, really sucks. Some of the communities along the way have established campsites. Fort Providence has a campground shortly up the inlet just past the big concrete barge dock. Norman Wells also has an official campground, but it isn't marked from the river. It's right after the house with the red roof, a few kilometers before town. Fort Good Hope will let you camp in the churchyard, right above the main landing site. We didn't stay at Fort Simpson, but it's big enough that there is probably something. We didn't see anything obvious at Wrigley, Tulita or Tsiigehtchic. There is a campground at Inuvik that was recommended to us, but we wanted a hotel room by then!
You should absolutely register with the RCMP, and check in at all the communities along the way. They were friendly, helpful, and genuinely concerned for our safety. However, the system isn't perfect. Most of the stations along the way weren't aware we were coming. A week after we got home, we got a call from the RCMP asking if we were all right. We had checked in at Inuvik at the end, but the message never made it back to Yellowknife. So while I'm very glad the system exists, I wouldn't absolutely rely on it either. And at the end of your trip, not only check in with the Inuvik station but you might want to call Yellowknife yourself to make sure everything gets closed properly.
You will meet some of the kindest, most generous people in the world along the river. They will offer you things like food, showers and laundry facilities. Your instinct will probably be to politely decline, because strangers don't really mean it when they offer things like that. These people really do, and you'll just look like a standoffish jerk for declining. Some of my best memories from this trip are of people who offered us help and took us into their lives.
The drive up
We left Seattle on June 23, 2007 for the 2 day drive to Hay River.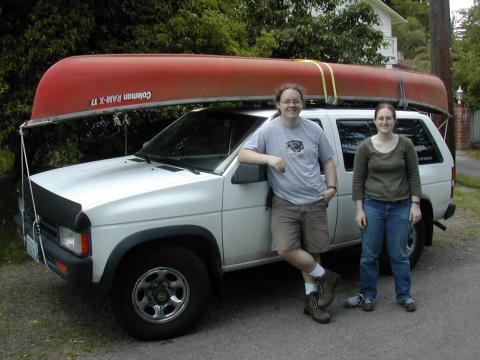 Me and Ari, just before setting out.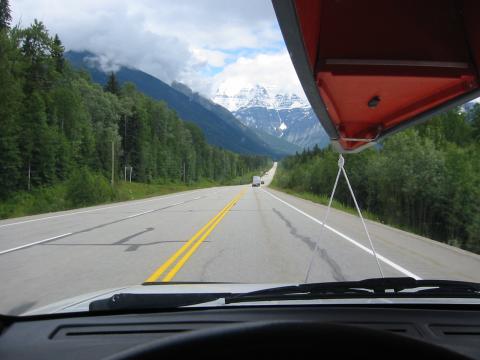 Our view for the next 22 hours of driving over 2 days.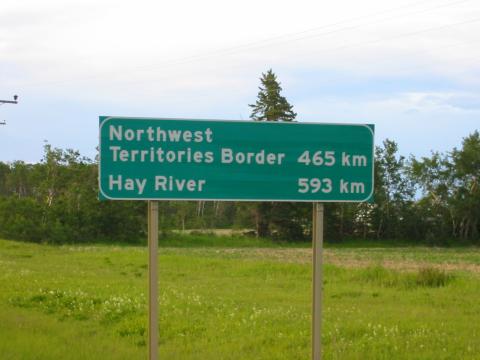 Getting close... kind of. This was just outside of Peace River, Alberta, around 19:00 on the second day.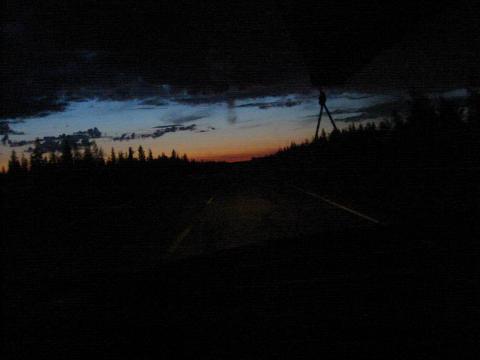 We ended up driving all night on the second day. Except it never really got to full night. Dim. Darkish. But not night.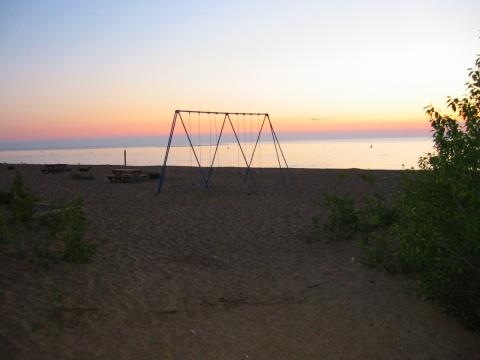 Sunrise over the Great Slave Lake in Hay River.
Paddling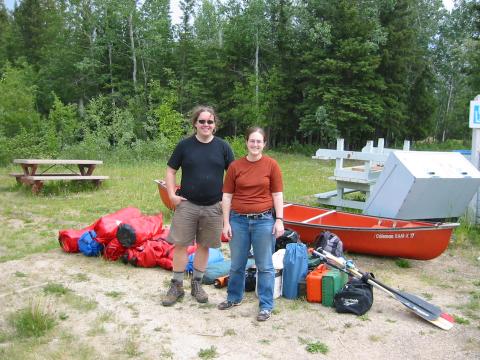 Day 1: Kilometer 0, the Dory Point campground.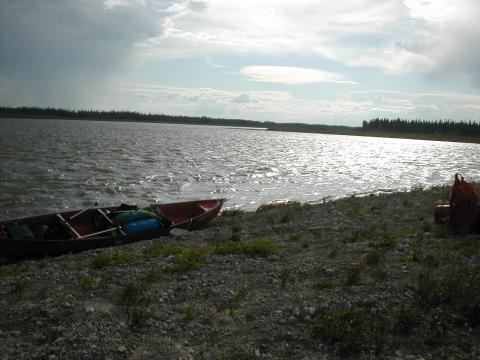 After about an hour of paddling, the wind picked up, resulting in some very unpleasant chop. We took shelter on the aptly named Gravel Island and waited it out.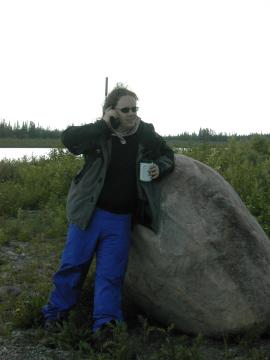 I took advantage of the delay to use the satphone for the first time. Awesome technology, even if it did have the tendancy to drop calls randomly. Originally I hadn't planned on using it much, but as the magnitude and isolation of the trip made themselves felt I ended up rationing myself to calls every other day so as not to use all the minutes.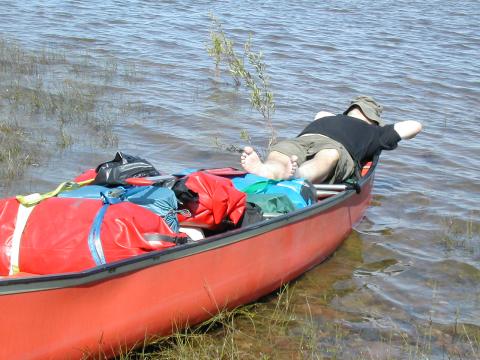 Day 3: Rest breaks are important!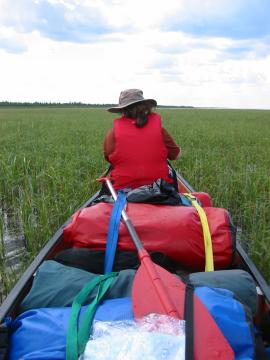 Later in the day, waves coming off Mills Lake drove us into the weeds for safety. Slower going, but at least we were able to keep making distance. The shoreline was entirely swamp through here anyway, so there was no place to land.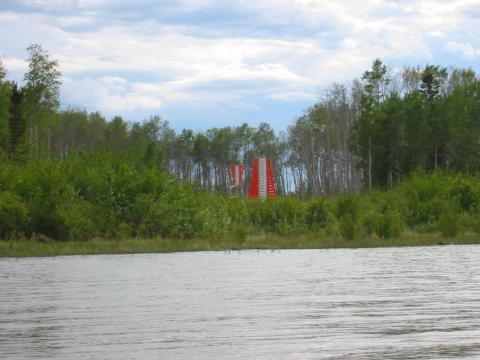 These marker pairs were our constant companion along the river. They are used by the barge traffic to line up properly for turns. Unfortunately, as our maps were too old to show them properly, they didn't help our navigation much.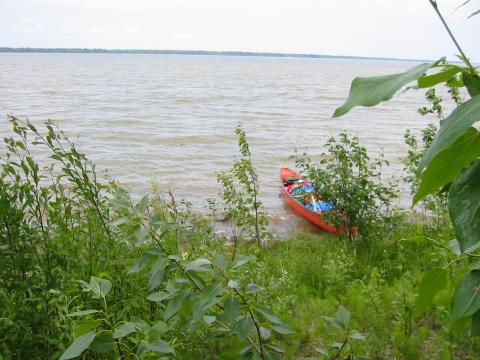 Day 4: The pattern of getting high winds in the afternoon continues. This time we sat there waiting for the waves to die down for 4 hours. As the trip progressed we got more confident in our ability to handle high waves.
That night we decided to keep paddling late to make up for lost time. Another big blow came up around midnight. We stopped for dinner. As we were cleaning up, we made an important discovery: mosquitos really come out at midnight. That is their spawning time or something. It was a complete horror show, and we quickly repacked the canoe and set off again in an attempt to flee their wrath. It was in vain -- they followed us, for 10 kilometers down the middle of the river. By the time we had recovered our wits and fully suited up with netting and more DEET, we were back into swampland with no place to land or make camp. We ended up paddling all night, including a surreal twilight crossing of the river. We finally found a small muddy shelf at 5:00, made camp and passed out. It was sublimely miserable.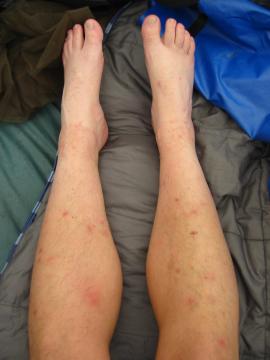 My legs after a few days of dealing with the bugs. (See the full image for a better sense of the carnage.) This was about as bad as it got -- not because the bugs went away, but because we got better and handling them. Despite religious use we went through less than a full bottle of REI 'jungle juice'. DEET is wonderful stuff and a little bit goes a long way.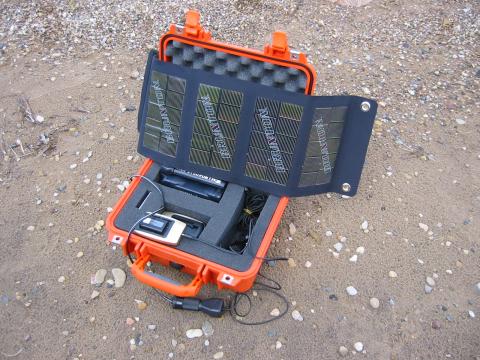 We charged batteries off this solar panel. This worked well enough for the small digital camera batteries, but it wasn't enough for the satphone. Luckily the 2 batteries we brought along for it were more than enough for the ~350 minutes we burned through. Finding time to do the charging was difficult. Despite it never really getting dark, only direct sunlight when the sun was high was strong enough. A 12W instead of 6W panel would have helped a lot.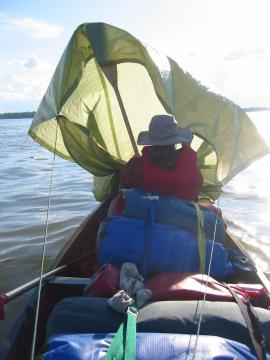 Day 5: We tried improvising a sail using our tarp. It worked okay, but we only ever had a strong tailwind one other time, so it wasn't worth much.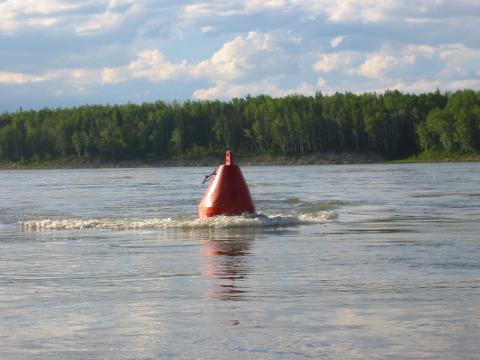 We finally hit real current as the river narrowed. It would keep this up until at least the Ramparts, 800 kilometers and 2 weeks downstream before starting to taper off into nothing in the delta.
Passing a buoy in the grips of this much current is a bit spooky. You can hear them coming a long way off, often long before you can properly see them. Good thing, too -- I would not want to hit one in a canoe.
Day 6: We landed at the small community of Jean Marie River and walk into town. It is almost completely deserted. We eventually find someone who unlocks the community center for us so we can shower. Heavenly!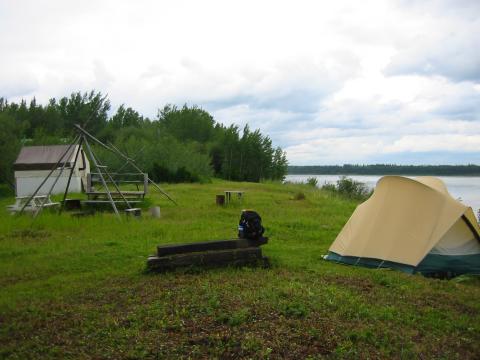 Later we pitch camp on the lawn of some empty cabins at Rabbitskin Creek. For once the ground is soft and level!
Day 7: Fort Simpson. We check in with the RCMP, who are also kind enough to call a nearby restaurant to make sure it is still open. We take advantage of a laundromat to do laundry.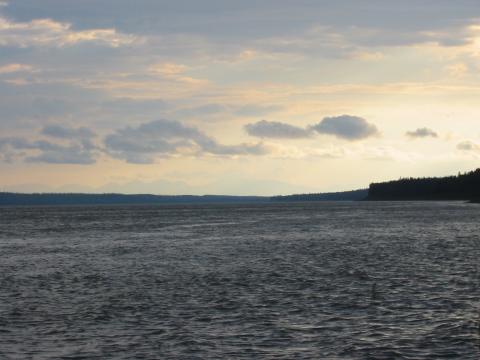 Day 8: The morning is nice, but a nasty headwind appears in the afternoon. After waiting a couple of hours for it to die down, we decided to push on, staying close to shore. We struggle for the rest of the day, making a very hard-earned 50 km. Our reward is a inclined, cobbled campsite with some of the worst bugs we'd seen so far. But as the picture above shows, the day had one very welcome feature: mountains! This was the first glimpse of real topography we'd seen since Alberta. It was a deeply welcome sight. Both of us grew up around mountains and find the flatlands a bit disturbing. Too much sky, not enough land to look at.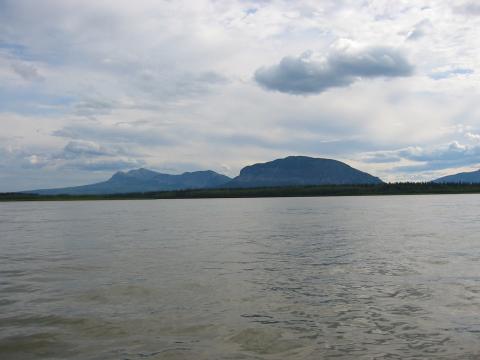 The Lonely Mountain, part of the Nahani Range. This was taken from the Camsell Bend, where the river make a sharp turn to the north. This is where Mackenzie began to realize he was headed to the wrong ocean.

Panorama of the river along our day 9 campsite. One of the best vistas we had for the entire trip, and a reasonably comfortable beach.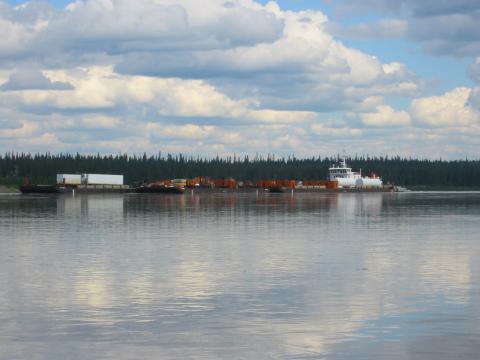 Day 10: We're passed by our first downstream barge. These things are huge and move along at a very scary clip. They swing back and forth across the river as they line up for the next curve, and they couldn't stop even if they did happen to see you in their path. Don't get in their way.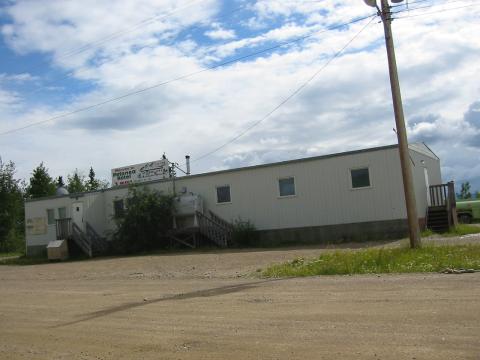 Day 11: We stop at Wrigley, the last town accessible by highway for the next 800 kilometers. We manage to get a shower at the Petanea Hotel, but doing so involves walking back and forth across town several times in order to track down someone who can open it up for us.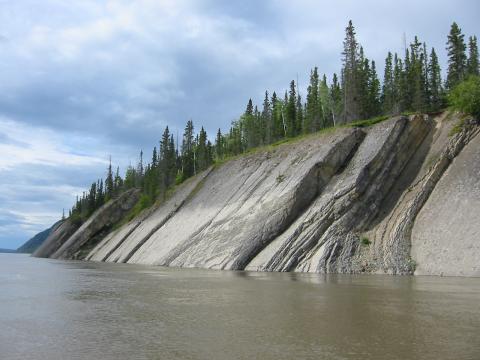 Just after Wrigley, we start to pass something very exciting: rock!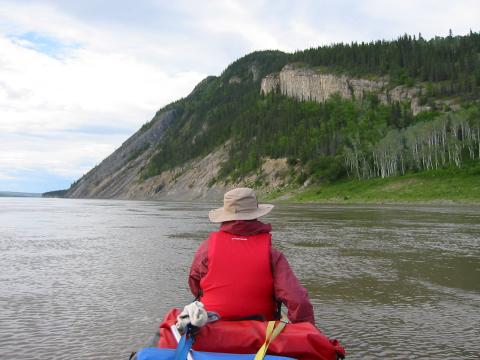 This is La Roche Qui Trempe a L'Eau, one of the more prominent landmarks along the river.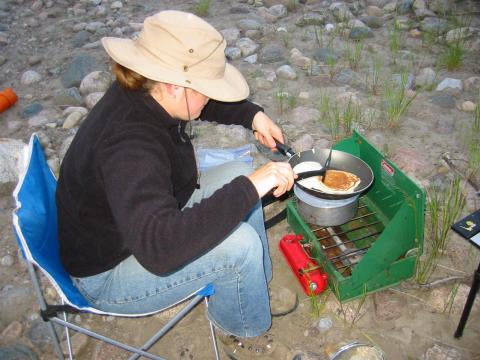 That night, pancakes! Yum.
Day 13 gets interesting when, after making an easy 65 km and finishing early, the tent blows into the river. Except that sounds far too tame, so let me rephrase. Our only real shelter was ripped into the air, sent cartwheeled violently down the beach like a Mars rover, before splashing into the river where it began to sink and be carried away by the current. I dove in after it and was able to pull it back to shore. I'm now pretty sure this was the correct thing to do, but I was less than sure at the time. It worked, anyway. But I was a bit too busy to get any pictures of the process.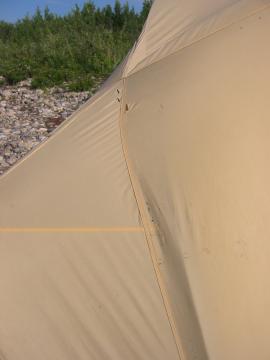 The only damage done to the tent was a couple of tears in the rainfly and a couple of lost stakes.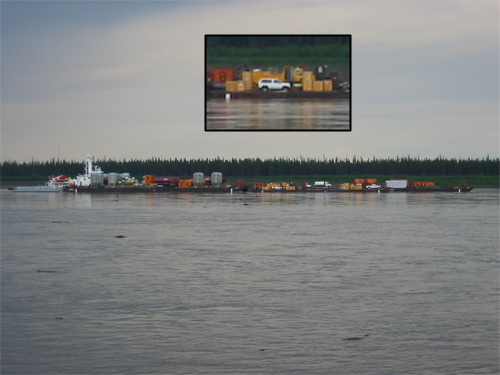 As I sat there damply, enjoying the power of dry fleece, the barge carrying the Pathfinder steamed by. For no good reason, being able to get a picture of it put me in an excellent mood.
Bear prints! Thankfully, this is as close to a bear encounter as we got.
Day 14: Met a very nice couple driving their new powerboat back from Hay River. They invite us to stop by when we arrive in Norman Wells.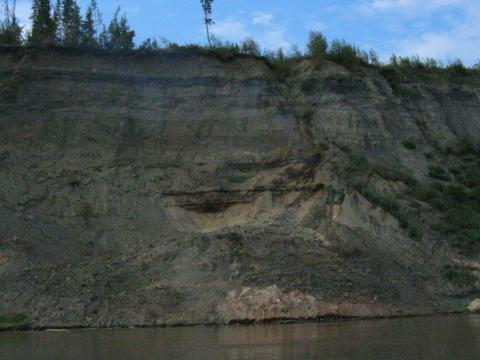 Around Tulita (Fort Norman) there are a lot of coal deposits. And some of them have been burning for hundreds of years, at least since Mackenzie's first trip. The smoke plume isn't as obvious in this picture as I wished, but it's there.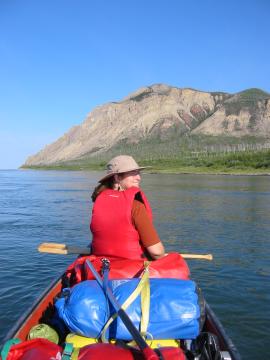 Day 15: Passed Bear Rock, and arrived in Norman Wells. Find the people we met on the river, who are kind enough to take us in for the night. Showers and laundry and fresh veg, oh my!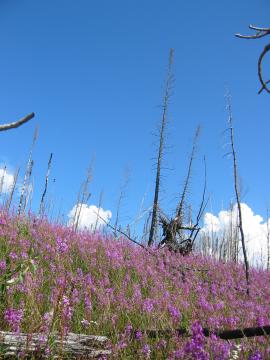 Day 16: We had been passing burned out sections of forest for days at this point. There have been a lot of fires over the last 10 years. The purple fireweed is nice, at least.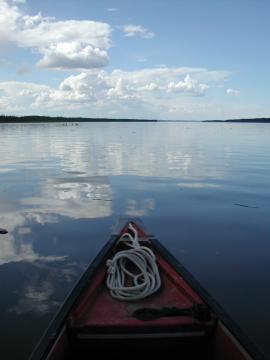 Another hot, still day. I never could decide if that was better or worse than being cold in the rain.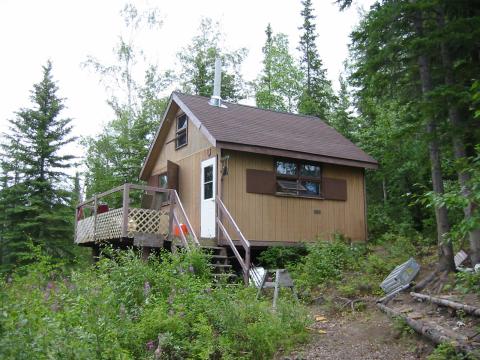 The people we met in Norman Wells told us we should stop by their cabin, so we did. Great little place.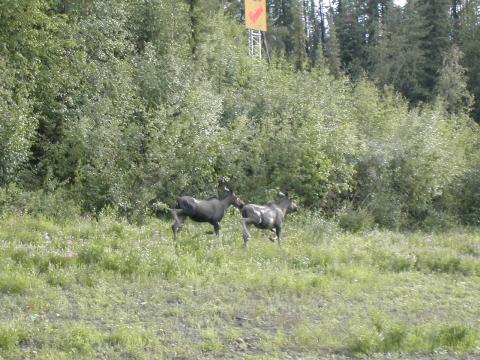 Day 17: Moose! These were the only megafauna we saw.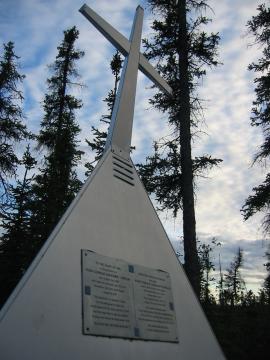 The memorial to Hugh Donald Lockhart Gordon, a paddler who drowned in the Sans Sault Rapids in 1961.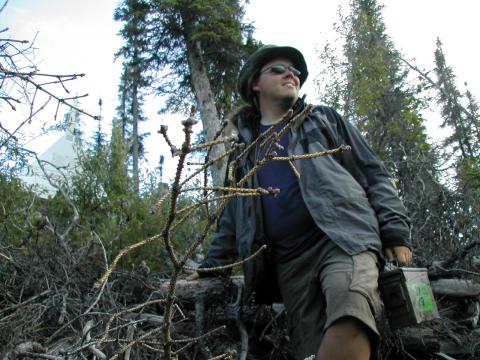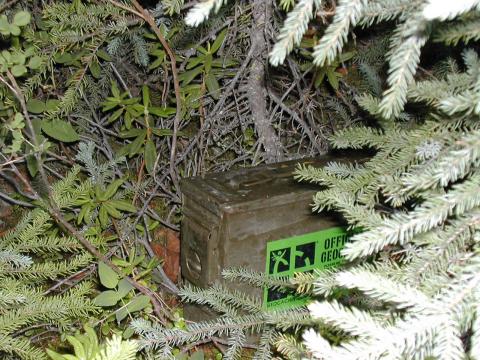 We placed a geocache behind the memorial at N 65° 39' 55.4", W 128° 47' 50.2". Getting up from the shore was a bit of a challenge, but it was only a taste of what was to come.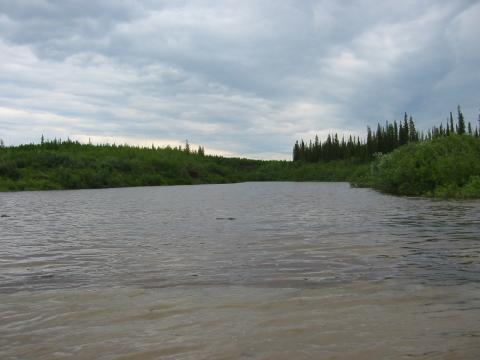 Day 18: Snafu Creek! Not much to look at, but I love the name.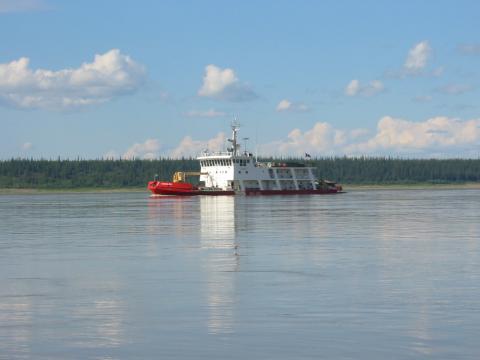 The Canadian Coast Guard 'Special River Navaids Tender' Eckaloo. We were passed several times by it and its sister ship the Dumit as they worked to maintain the navigation buoys along the river. Very friendly -- they slowed and tooted their horn as they passed.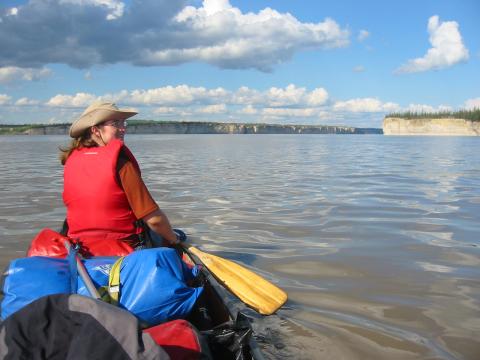 The Ramparts approach!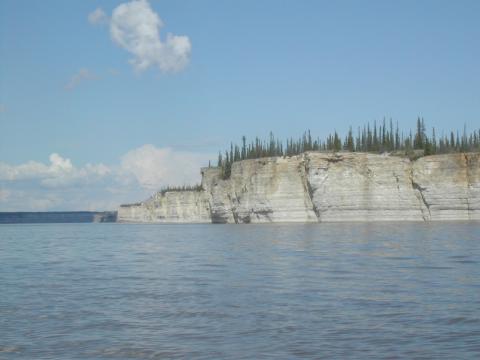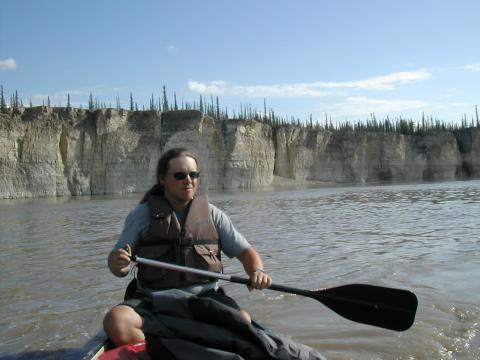 It was a bit like passing the Argonath.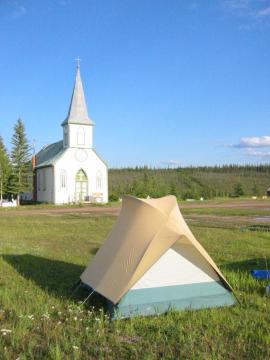 Day 19: Spent the night at Fort Good Hope, where we were told to pitch the tent anywhere in the churchyard.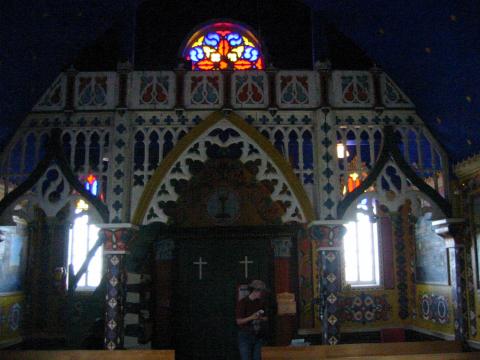 We had been told to make sure to see the inside of the church, which is a national historical monument. After some asking around we found the priest who handed us the key. Pretty fly place.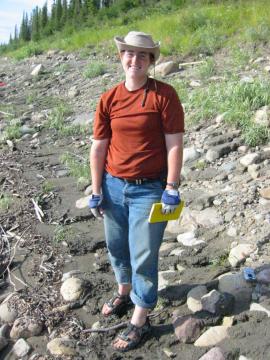 Day 19: The Arctic Circle! This was Ari's first time across, and I was finally moving farther north than I had ever been before.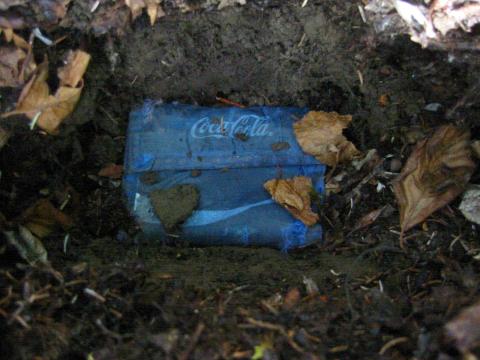 I took the symbolic opportunity presented by the Arctic Circle to bury my old wallet with honors. Purchased 20 years ago for my first trip to Europe, it served me far better and longer than I had any right to expect. But all mortal things must perish, and it was finally nearing complete structural failure. Better to go out in style on a grand adventure. Cheap blue Coca-Cola wallet, you will be missed.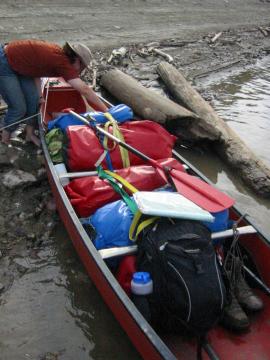 The packing of the canoe evolved over time, but this was pretty much the final configuration. We were overpacked, really, but it didn't matter that much. Canoes can carry a lot. I think we had enough food for a trip twice as long.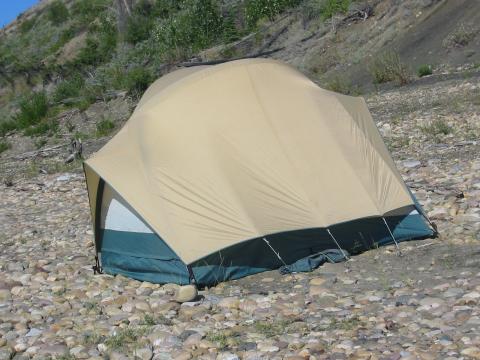 Day 21: Another hard, bumpy campsite. The river was very high, limiting the number of options. We were told this was also why we saw so few animals.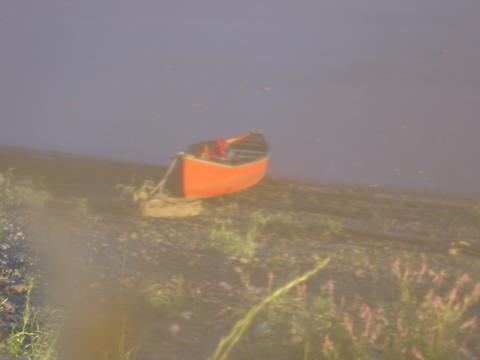 The canoe as seen from the tent, taken at midnight. At this point in the trip, 67° north, it never even really got dim at night.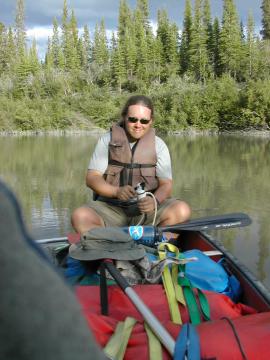 After the Liard River joined at Fort Simpson, the river got very, very silty. Too silty to use UV sterilization, and bad enough to clog up filters within 1/4 of a liter. So we looked for smaller creeks flowing in. We'd paddle up them a ways until the water cleared some and filter there.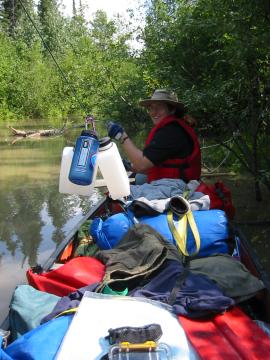 It was usually easiest to just stay in the canoe to do the filtering. We rigged a zipline to pass the bottles back and forth. After this long lacking any mass media, the process was entirely too much fun.
Day 23: Reached Tsiigehtchic, the last community before the delta begins. As we were walking through town, and old man randomly invited us into his house to fill up our water bottles. He then insisted that we shower and eat pork chops as well. We didn't exactly put up a fight.
As we left, it started to rain. Torrentially. We paddled on stoically for another 3 hours, getting pretty well soaked. We made camp in some of the heaviest rain I've ever seen, and tried to get some sleep. The one lucky thing is that the crazy winds didn't start until after the tent was up and we were inside.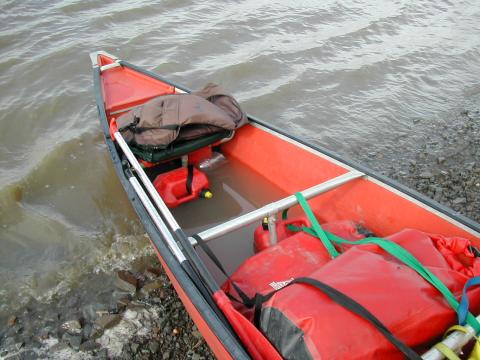 The next morning there was 6 inches of water in the back of the canoe. We're lucky the tent didn't just wash away in the middle of the night.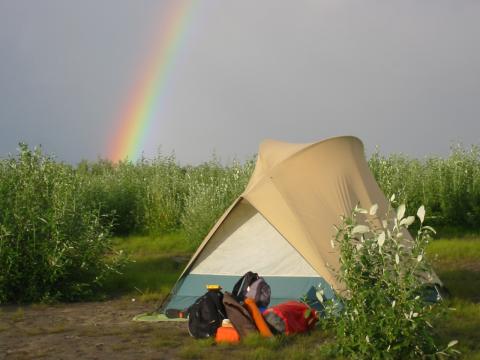 Day 24: Into the delta at last... and the current died almost entirely. Finally some nice, flat, sandy beaches at least. This one was a nesting ground for arctic terns, who weren't completely happy to see us. I noticed that rainbows tended to last much longer than I'm used to. This was was there for at least an hour. I wonder if the reason rainbows normally disappear isn't changing water droplet conditions, but simply the angle of the sun changing. That happens much slower at high latitudes near the soltice.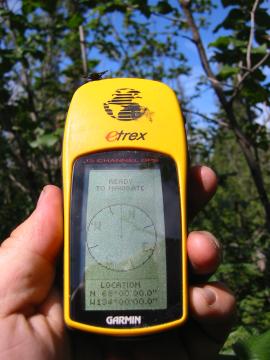 Day 25: Spent 2 hours trekking through the undergrowth to claim the N 68° W 134° confluence. Success! Look at all those zeroes!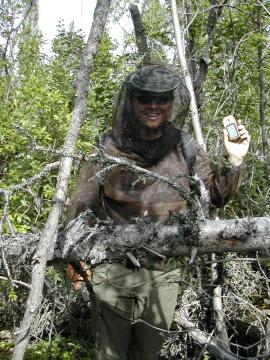 The bugs were simply unreal in the interior. Combined with a hot, muggy day, boggy conditions and often-impenetrable undergrowth, it made for a challenging hike.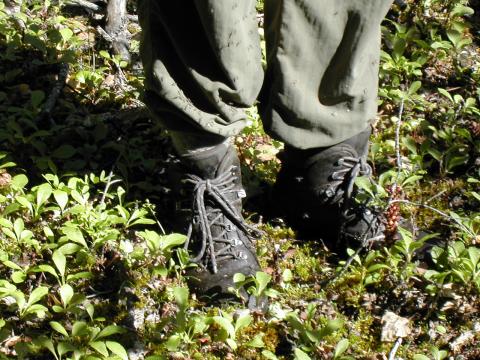 Look close. Those dots on my pants there are mosquitos, all of them very thirsty.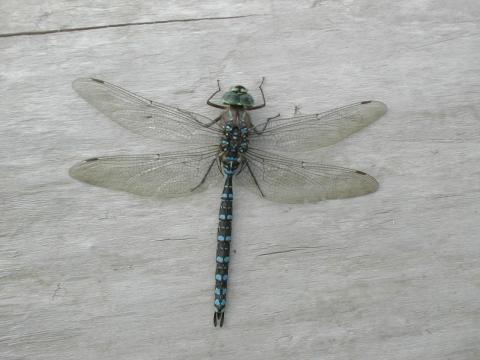 Dragonflies are awesome. They are the air cavalry of bug control. When we emerged from the forest after the hike, we were followed by a swarm of mosquitos. Within minutes we had attracted at least a dozen dragonflies, chowing down. It was an aerial buffet for them.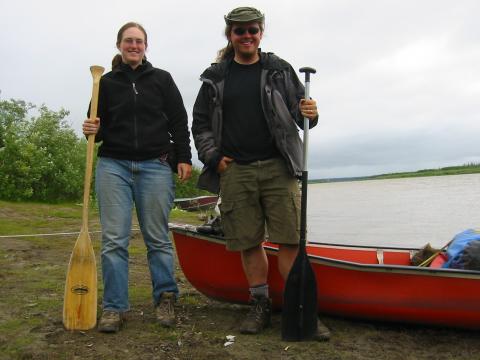 Day 26: Inuvik! Got into town around 14:00. Walked over to the NTCL shipping yard, which turns out to be about 2 miles north of town. Picked up the Pathfinder, which was waiting for us.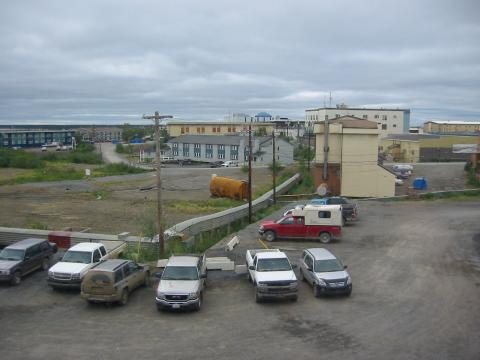 We got a room at the rather nice MacKenzie Hotel. A restaurant, showers, laundry, climate control, television, my ipod... it was amazing.
The drive back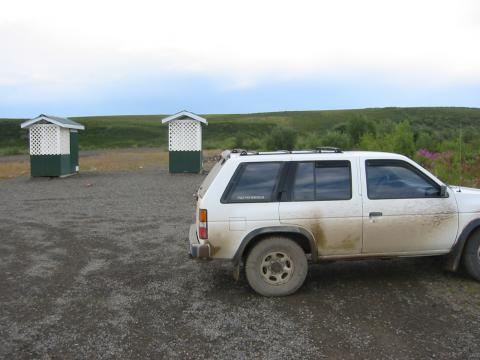 The only way to drive out of Inuvik is to take the Dempster Highway, which is about 500 miles of fairly marginal dirt road. It was bad, but not nearly the endurance test I've seen it made out to be. There is gas available at Eagle Plains, which is almost exactly halfway. If you can make at least 300 miles on a tank, you won't have any problems. I wouldn't want to do it without good tires, though. It's a rough road.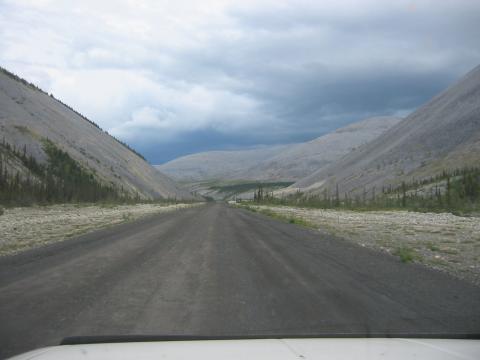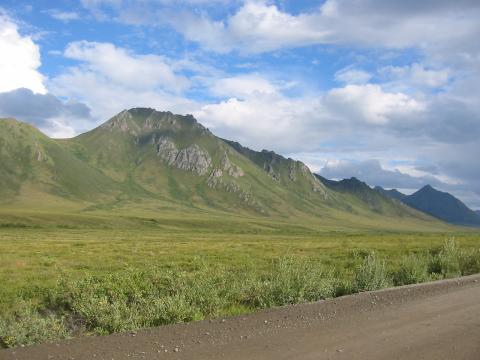 Excellent scenery, to be sure. It was great to be in amongst mountains again.
It took us 5 days to get back to Seattle. Inuvik to Dawson City, Dawson City to Whitehorse, Whitehorse to (more or less) Stewart, Stewart to William's Lake, William's Lake to Seattle. Most of those were 10+ hour days, but it wasn't too bad. The Cassiar-Stewart Highway isn't as bad as I had feared. The north half is pretty mediocre, but the southern half is quite nice. It didn't take any longer than going around on the Alaska Highway, and the scenery was much nicer.