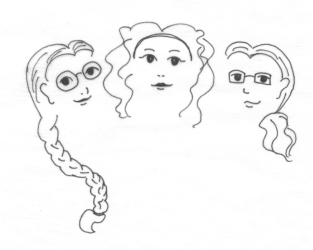 | | |
| --- | --- |
| | Escape Key |
---

Escape Key is an acoustic trio made up of Michelle Dockrey, Matthew Dockrey, and Audrey Eschright. We have performed mainly at science fiction/fantasy conventions, in the style of music known as filk.
Our CD, Shadowbeast, is available online at CD Baby, iTunes, and through a variety of vendors at filk and SF/Fantasy conventions.
What's filk? It's music, usually folk in style, about topics of interest to science fiction/fantasy fans. Some is humorous, some is serious, most is about telling stories. Much more detailed descriptions have been written by these people.
Escape Key is retired as a band, but Michelle continues to perform as part of the duo Vixy & Tony. Vixy & Tony's first album, Thirteen, contains new studio versions of the Escape Key songs Mal's Song and Persephone.
---
Home ~ What is filk? ~ Song List ~ Upcoming Appearances ~ Contact Us
Last update August 5, 2009.